Exclusive
Taylor Armstrong's Daughter Will Be Getting Help From Mental Health Professional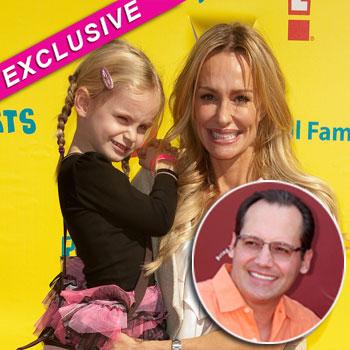 By Jen Heger - RadarOnline.com Legal Editor
Taylor Armstrong has decided that her five-year-old daughter Kennedy, should get help from a mental health professional after the shocking suicide of her father, Russell Armstrong, RadarOnline.com is exclusively reporting.
Taylor has remained holed up with her daughter at their 9k a month Bel Air Crest rental house since the tragedy, venturing out Thursday to attend a memorial to her late husband at Forest Hills in Hollywood.
Article continues below advertisement
Taylor has been reading several books with Kennedy that are geared towards children that have lost a parent.
"Kennedy is only five, she understands that Russell has died - however, she keeps asking for him. Taylor has made the decision that Kennedy should see a mental health professional to deal with the loss of her father.
"Taylor's sole focus right now is taking care of her daughter, and helping her through this very difficult time. Kennedy doesn't know Russell killed himself, Kennedy is just too young to process the idea of suicide," a source close to the situation tells RadarOnline.com.
"Kennedy will most likely begin therapy sessions in the next week or so. Right now, Taylor is just trying to return to a normal routine for Kennedy's sake," the insider says.
As RadarOnline.com previously reported, Russell abruptly stopped taking his anti-depression medication two weeks before his suicide. Russell had been taking the meds to control issues he was having with rage.
Meanwhile, Taylor received a visit from L.A. County Assistant Chief Coroner Ed Winter, Friday to discuss Russell's state of mind leading up to his suicide.