Nigel Lythgoe: 'All 3 Judges Returning To American Idol'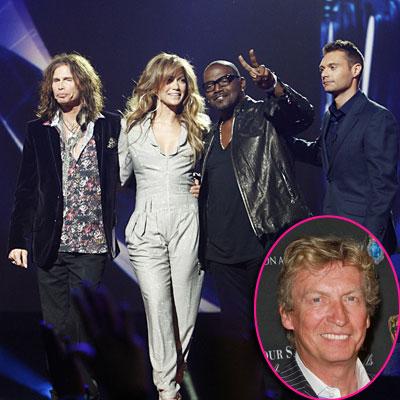 Executive Producer Nigel Lythgoe told Ryan Seacrest on Wednesday "that all three judges, along with the brilliant host of American Idol, are back for next season."
The announcement, which came on Seacrest's KIIS-FM radio show in Los Angeles, ends months of speculation, as Jennifer Lopez had been hemming and hawing over whether she'd return for a second season alongside Randy Jackson and Steven Tyler.
Article continues below advertisement
Lythgoe said the merry band will soon hit the road for auditions for the show's eleventh season in the following cities: Denver, Colorado; Houston, Texas; St. Louis, Missouri; San Diego, California; Pittsburgh, Pennsylvania; Charleston, South California and Portland, Oregon.