Real Housewives Of Beverly Hills Housewives Were Upset With Taylor For Not Leaving Husband Sooner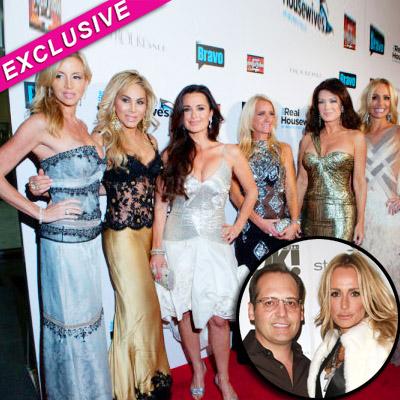 By Jen Heger - RadarOnline.com Legal Editor
The Real Housewives of Beverly Hills cast was upset with Taylor Armstrong for not leaving her estranged husband, Russell Armstrong, sooner -- and this was discussed during a taping of a special that will air right before the season premiere of the Bravo hit show on Monday, September 5, RadarOnline.com is exclusively reporting.
Russell committed suicide more than two weeks ago, and Russell's family has publicly said that how he was portrayed on the show could have pushed Russell over the edge.
Article continues below advertisement
"Given that these episodes were filmed months ago, the producers of the show taped a brief interview this week with several of the cast members to introduce the premiere. Re-editing of the episodes is still underway," President of Bravo Media, Frances Berwick, said in a statement released Wednesday morning.
A source close to the situation exclusively tells RadarOnline.com that the cast explained during filming for the special "they, as a group, were very upset with Taylor for not leaving Russell sooner. They didn't understand what took her so long to pull the plug on her marriage. It was an open secret that Russell was beating Taylor. Lisa Vanderpump couldn't fathom staying with a man that hit a woman, and she expressed her concern for Taylor's daughter, Kennedy. The women were all very saddened by Russell's suicide, and it was shocking. They hope to raise awareness about suicide prevention. Suicide should never be an option."
The network has partnered with the Entertainment Industries Council to raise awareness about suicide prevention.
"The network will air various PSA's during the The Real Housewives of Beverly Hills," explained Berwick in his statement. "We will also provide additional information and resources on Bravotv.com, including the National Suicide Prevention Lifeline.
"Our thoughts continue to be with the Armstrong family during this difficult time."