LIVE STREAM: Casey Anthony Probation Hearing -- Watch It Here Live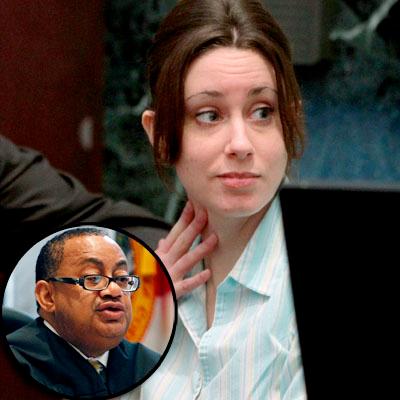 By Neil Woulfe - RadarOnline.com News Director
UPDATE: The judge has recessed court without making a decision.
Casey Anthony's defense team is back in court Friday morning, asking a judge to overrule another judge's order forcing the notorious 'Tot Mom' to return to Orlando, Florida to serve probation for a check fraud conviction, and RadarOnline.com is live streaming the hearing.
Anthony does not have to personally attend the emergency hearing before Orange County Judge Belvin Perry -- the same judge who presided over her murder trial.
Article continues below advertisement
Originally, Judge Stan Strickland -- who oversaw her check forgery case -- ordered Anthony, 25, to return to Orlando by 10am Thursday (yesterday) to serve one year supervised probation for stealing a friend's checks and forging her signature.
Anthony's attorneys immediately challenged that ruling, claiming that they were under the impression that Anthony served out her probation while she sat in jail for nearly three years awaiting trial for the death of her 2-year-old daughter Caylee.
Judge Strictland has said he always intended for Anthony to begin serving her probation AFTER her murder trial was resolved. In any event, the emergency hearing Friday is expected to resolve the issue, with Judge Perry having the final day.
At Friday's hearing, Anthony's lawyers will argue that her life would be in grave danger if the state of Florida compels her to serve a year's probation as part of the check fraud conviction. Her lawyers also will point out that probation would call for state-funded security services, which would add even more costs to the $700,000 that taxpayers spent on the investigation into Caylee's disappearance and murder trial.
Article continues below advertisement
What's more, the emergency request for a hearing reminds the court that if Anthony is forced to return to Orlando, the "circus-like atmosphere" surrounding her case only would increase.
Anthony's legal team insist that Judge Strickland has shown "prejudice" against Anthony in television interviews he gave following her acquittal last month.
Anthony disappeared from the public eye after she was acquitted last month in the death of her daughter. Although photos of her surfaced on the web earlier this week purporting to show her shopping last weekend in Ohio, the authentically of those photos are now being called into question.