Lady Gaga & Cher To Team Up On New Single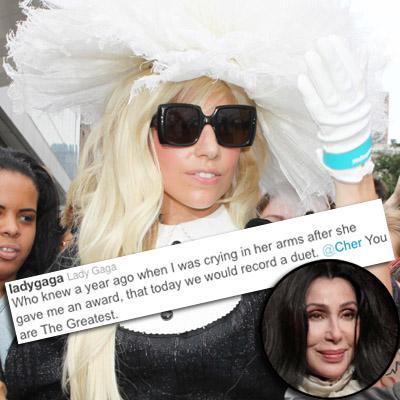 When divas of two generations will team up, it's the greatest thing -- in this case, literally!
Yes, Lady Gaga and Cher are slated to release a single called The Greatest Thing, which comes out next month, the first track off Cher's upcoming album.
Cher tweeted Tuesday, "Can hardly wait 4 GT 2 Come Out! Was XCITED 'Bout Making New cd, But Wasn't Expecting BIG Surprises...& THEN...... SURPRISE ! GAGA ! DUET !"
Article continues below advertisement
The trendsetters first crossed paths at last year's MTV Video Music Awards, with Cher giving Gaga the video of the year honors.
Gaga tweeted Tuesday: "Who knew a year ago when I was crying in her arms after she gave me an award, that today we would record a duet. @Cher You are The Greatest."
Fun fact: Gaga was born March 28, 1986; two days later, Cher famously wore an uber-sexy, Bob Mackie-designed, beaded black two-piece dress, with a 2-foot-high headpiece, to the Academy Awards.
This year, Gaga will open the ceremony, where she's up for four awards: Best Female Video and Best Video With a Message for Born This Way; and Best Art Direction and Best Choreography for Judas.
The MTV Video Music Awards will be broadcast on MTV and MTV.com from Los Angeles' Nokia Theater on Sunday, August 28 at 9/8c.
RELATED STORIES:
Lady Gaga To Open MTV's Video Music Awards!