Jim Carrey Answers Critics About 'Creepy' Emma Stone Video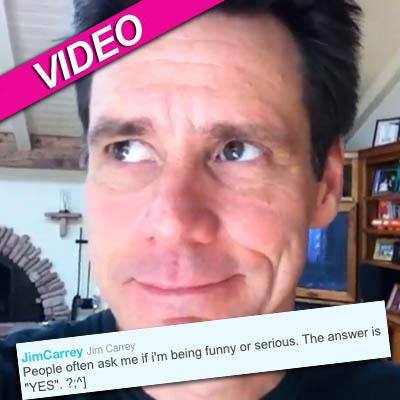 Jim Carrey is once again addressing his critics after he posted an off-beat video on his official web site in which he confesses his huge crush on The Help star Emma Stone and even says "I would marry you."
Some people have labeled the video "creepy," so on Thursday, Carrey took to Twitter and posted: "People often ask me if i'm being funny or serious. The answer is "YES". ?;^
This is now the second time, he's defended himself about his ode to Emma.
Article continues below advertisement
On Wednesday -- just hours after posting the video -- Carrey tweeted: Yes, my msg to Emma Stone was a comedy routine and the funniest part is that everything i said is tru. www.jimcarreytrulife.com
The video has been streamed so many times, it crashed his web site for a while on Thursday.
In the video, Carrey says: "Emma, I think you're all the way beautiful. Not just pretty, but smart and kind-hearted. And if I were a lot younger, I would marry you. We would have chubby little freckle-faced kids."
"We'd laugh all day long, go camping and play Yahtzee. Tell ghost stories by the fire."
Carrey -- who split from former Playboy model and aspiring talk show host Jenny McCarthy in April 2010 after five years together -- acknowledged the age gap in the video, and jokingly admitted a relationship between the pair would be inappropriate.
He added: "And every day, for the rest of your life, you would thank God that I was the appropriate age for you. But I'm not. I'm 49.
Article continues below advertisement
"I have lines on my face, sometimes a little gray in my beard, and it takes me a little bit longer to pee than it used to."
He signs off the video by wishing Emma -- who is rumored to be dating her 'Spider Man' co-star Andrew Garfield -- the best with her career.
"Anyway, I just wanted to let you know how I felt. I think you're very special and I wish you continued success and artistic fulfillment. But most of all, I wish you love and contentment."