Jenny McCarthy Slammed For Twitter Comment By Anti-Rape Group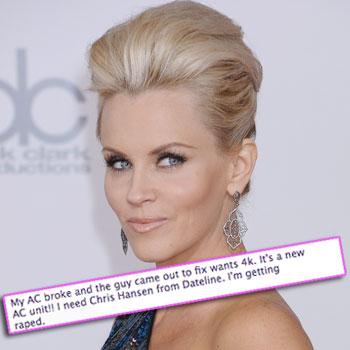 Article continues below advertisement
After reading what McCarthy wrote executive director of the California Coalition Against Sexual Assault Sandra Henriquez told RadarOnline.com Online.com: "It is not uncommon for the people to use the term 'rape' as a figure of speech, particularly when feeling violated, upset or taken advantage of.
"However, it is critical to recognize the power of speech, and its ability, when used out of context, to undermine the experience of victimization of sexual assault survivors.
"Each incident is an opportunity to further educate the public about the seriousness of rape and the role we can play to participate in its elimination."
Founded in 1980 CALCASA promotes public policy, advocacy and training on the issue of rape.
Illinois born model and actress McCarthy – who dated Jim Carrey for five years – released a book last year Love, Lust And Faking It: The Naked Truth About Sex, Lies, And True Romance where she openly discussed her own sex life and offered relationship advice to other women.