Gwyneth Paltrow And Chris Martin In Rare Public Sighting Together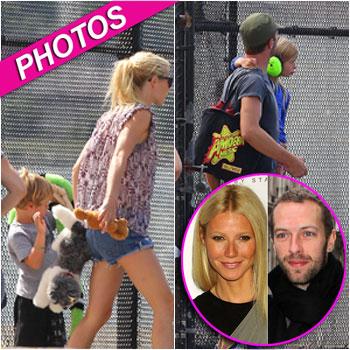 - Radar Senior Reporter
Gwyneth Paltrow and Chris Martin make it a point not to be photographed together, often fueling erroneous speculation that the couple is on the outs, but on Thursday the married superstars were finally spotted together along with their adorable little children.
The gorgeous and rich family flew into Manhattan by helicopter, and mom and dad happily carryied kids and toys around.
Article continues below advertisement
Gwyneth showed off her gorgeous gams in a pair of tiny denim shorts, with her little boy Moses by her side while she carried stuffed animals like a doting mommy.
Her rocker husband Chris held their seven-year-old daughter Apple in his arms as they exited the chopper and got into a waiting limousine.
He has been touring the US with his band Coldplay, hitting up Los Angeles and Chicago for star-studded concerts.