Goodwill Game Between U.S. & China Ends In Basket-Brawl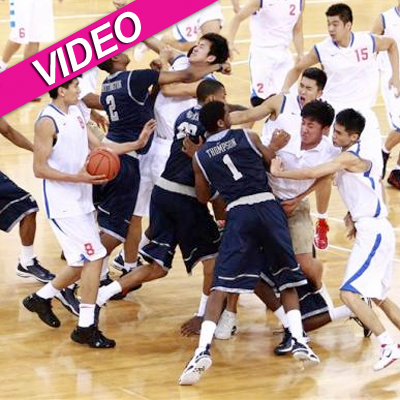 By Neil Woulfe - RadarOnline.com News Director
It wasn't supposed to end this way.
A goodwill basketball game between a U.S. college team and a Chinese military team turned into an all-out brawl in the final minutes of the game on Thursday night -- and the video has gone viral.
With about 10 minutes left (and the score tied at 64) into the 'friendly' exhibition game between the Georgetown Hoyas and the Bayi Rockets, a melee broke out.
Article continues below advertisement
It's not clear what started the brawl, but shoving quickly turned into punching and kicking.
The melee ended only when Georgetown's coach pulled his team off the court as spectators booed and a few threw cups at the players.
Georgetown head coach John Thompson III expressed his regrets after the incident.
VIDEO: President Obama And VP Biden Sing A 'Duet Of Regret' In Animated Year In Review
"Tonight, two great teams played a very competitive game that unfortunately ended after heated exchanges with both teams," Thompson said. "We sincerely regret that this situation occurred."
Several players from the Chinese team visited the Georgetown team at their hotel Friday morning in an attempt to smooth things over and even saw them off to the airport.
The American collegiate team is on a 10-day trip as part of a program to promote goodwill through sports.
ON YOUR RadarOnline.com: 25 Most Memorable TV Moments Of 2010
The goodwill match coincided with Vice President Joe Biden's official visit to China.
Article continues below advertisement
Biden -- who did attend the first exhibition match between the two teams on Wednesday -- was not at Thursday's game.
Instead, he was rather across town at a banquet with his Chinese counterpart, Xi Jinping, who is expected to become China's next president. The two countries have been working hard foster a positive relationship.