Gaga Is No Lady As She Poses As Male Alter Ego For New Single Cover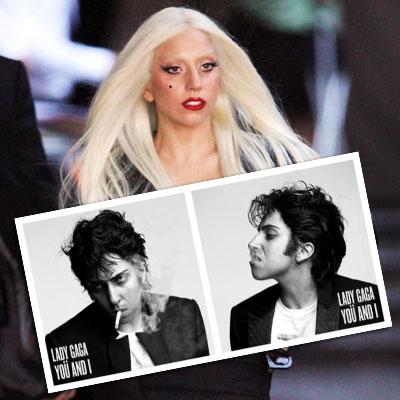 Lady Gaga resurrected her male alter-ego Jo Calderone for the artwork of her new single You And I.
The outspoken singer, who first portrayed Jo -- a fictional Italian car mechanic -- for Vogue Hommes Japan's 2010 September issue, tweeted two front covers for her latest Born This Way single, showing her in black and white with sideburns and stubble.
In the artwork, Lady G also smokes a cigarette while posing in a black blazer and white t-shirt.
Article continues below advertisement
GaGa accompanied the artwork with a tweet: "You will never find what you are looking for in love, if you don't love yourself #You&ISingleCover."
Lady Gaga has also previously teased the You And I video, which she has promised will be posted on Twitter as her one-thousandth tweet.
Lady Gaga Dishes On Cooking, Recording On Her Bus, And (Egads!) If She Had A Straight Kid
The promo was shot in Nebraska last month, recently claiming that the video is about taking a journey to win back the one you love.