Camille Grammer on Russell Armstrong's Suicide: 'My Sympathy And Condolences…'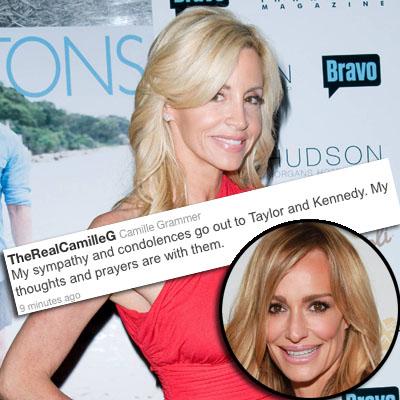 Taylor Armstrong's cast mates on the Real Housewives of Beverly Hills are reaching out to her and her young daughter in wake of her estranged husband's shocking suicide.
Cedric Martinez told RadarOnline.com in an exclusive statement: "I am deeply saddened to hear of my friend Russell's passing. My thoughts and prayers go out to the innocent victims of this tragedy – (his children) Aiden, Griffin and Kennedy."
Article continues below advertisement
Camille Grammer tweeted Tuesday: "My sympathy and condolences go out to Taylor and Kennedy. My thoughts and prayers are with them."
Bravo's Andy Cohen – who oversees the "Real Housewives" franchise – likewise tweeted his condolences.
"I am so very sad about today's news. My prayers and thoughts are with Taylor Armstrong and her family."
Following Cohen's tweet, a Bravo spokesperson released this statement:
"All of us at Bravo are deeply saddened by this tragic news. Our sympathy and thoughts are with the Armstrong family at this difficult time."
Bravo star Patti Stanger tweeted, "@taylorarmstrong Sweetie, I am so sorry for your loss, please note I am here for you... Prayers & condolences to you and your family!"
Real Housewives of New Jersey star Caroline Manzo tweeted, "So sorry 2 hear about Russell Armstrong's death. I hope @taylorarmstrong's privacy is respected during this difficult time."
MORE ON:
Russell Armstrong
Article continues below advertisement
Peggy Tanous of the Real Housewives of Orange County tweeted, "I'm very saddened by the news of Russell Armstrong. My thoughts and prayers are with Taylor and Kennedy and the family."
Armstrong's co-star Adrienne Maloof tweeted, "My heart goes out to @TaylorArmstrong and Kennedy during this devastating time. You will be in my thoughts and in prayers."
Stay tuned for more reaction from the other 'Housewives'...