Brooke Hogan In Nude Photo Flap, Defends Her Relationship With Dad Hulk Hogan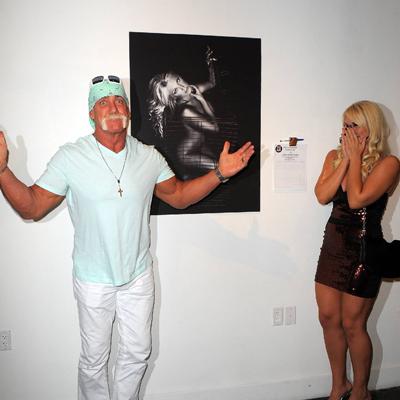 Brooke Hogan wants people to stop suggesting there is something perverse about her relationship with her dad, Hulk Hogan.
"Im SO sick of people saying me and my dad are in some perverted relationship," Brooke tweeted on Saturday.
The flap began after Brooke, 23, took her divorced wrestler/actor father with her for the unveiling of her nude PETA photo last Thursday in Miami.
Hulk feigned being shocked when the photograph, showing a nude Brooke in a cage, was revealed.
Article continues below advertisement
This wasn't the first time the Hogan father-daughter relationship has come under scrutiny.
Photographs from 2008, showing Hulk putting sunscreen on the back of Brooke's upper thighs as she relaxed on a poolside chaise lounge, caused an Internet uproar. So did Hulk supervising Brooke's 2008 semi-nude Maxim photo shoot.
None of it should be considered the tiniest bit suggestive, Brooke insists.
"Go home and do your own thing! Stop picking on me!" she tweeted to her "haters."