Exclusive
Beyonce Knowles To Perform At Michael Jackson Tribute Concert -- Via Satellite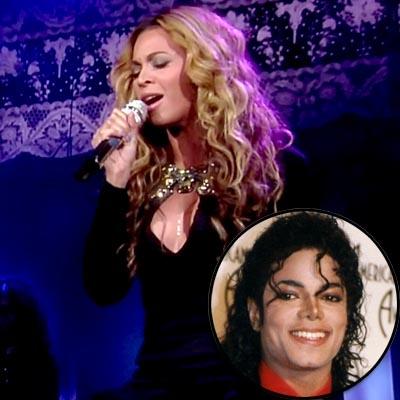 Beyonce Knowles is set to perform at the upcoming Michael Jackson tribute concert, but not in person -- rather, via satellite.
The Halo singer was a huge a fan of the Thriller hit maker, who passed away from acute Propofol intoxication in June 2009 at the age of 50. Now, it's been confirmed she will take part in the Michael Forever Tribute Concert, which is due to take place at the Millennium Stadium in Cardiff, Wales, on October 8.
Article continues below advertisement
However, she won't be able to make it in person because of "scheduling issues," but has found a way to be involved.
Writing on their Facebook page, promoters of the concert confirmed: "BEYONCE Beams Into Michael Forever Tribute!! A unique, never-before-seen performance by Beyonce of one of her favourite Jackson 5 songs will be shown at the concert on October 8th! A lifelong Michael fan, Beyonce really wanted to be involved in this tribute concert. Due to scheduling issues she can't be there in person, but this performance is not to be missed!"
Beyonce's husband Jay-Z, Justin Bieber, Chris Brown and Kanye West have also been asked to perform at the event, which will mark the life of the music legend.
As RadarOnline.com previously reported the Jackson family are currently "at war" over the concert. Jackson matriarch Katherine plans on taking Michael's two oldest children, Paris and Prince tout of school to travel to Wales to attend the tribute, something that Michael's brothers, Randy and Jermaine strongly object to.