Alex O'Laughlin's Smokin' Hot Beach Body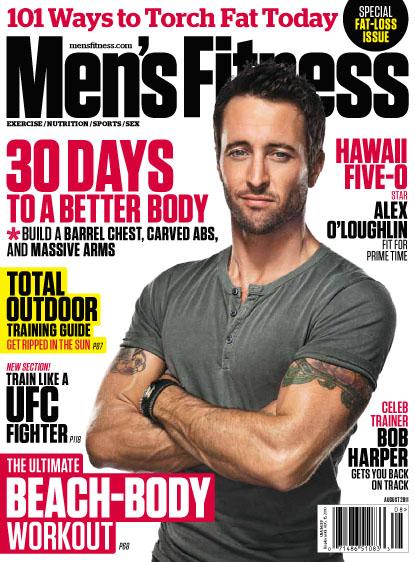 Alex O'Laughlin, star of CBS' hit show Hawaii Five-0, shows off his shredded bod in the pages of the current issue of Men's Fitness. In order to look the part of a lean ex-Navy SEAL, the hunky actor trains jiu-jitsu with co-star Scott Caan, runs the canyons around Hollywood and surfs while on set in Hawaii.
But he credits his dedication to proper nutrition as the main weapon in maintaining his shredded physique. The Aussie actor, 34, downs at least two gallons of water a day and watches his portion control with a simple guide that anyone can follow, "If you look at your open hand, the size of your palm is the amount of protein you should take – about two-thirds of a chicken breast," says O'Laughlin, "Your splayed four fingers equal the amount of space you should have for vegetables. And the triangular area between your index finger and thumb is for carbohydrates."
Article continues below advertisement
O'Laughlin, who used to weigh in at 200-lbs of solid muscle as a youngster, doesn't hit the weights nearly as hard as he used to in order to maintain his physique. "The key is to have a very low-sodium diet," he says, "And understand that 80% of the process happens in the kitchen, not the gym."
Check out the August issue of Men's Fitness on newsstands now!
RELATED STORIES: