Exclusive
Adrienne Maloof Shows Off Her Opulent Beverly Hills Mansion – Take A Tour!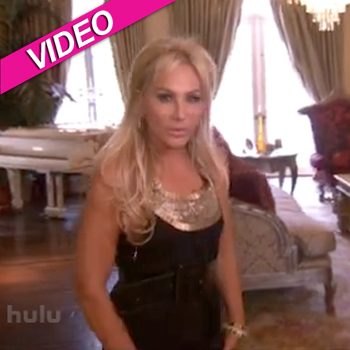 While some reality stars break the bank to portray a lavish lifestyle as television cameras follow them around, one Real Housewife is truly living the high life and owns a luxurious mansion in Beverly Hills that would even have a few of the Hiltons feeling like they live in a one-bed starter home.
Adrienne Maloof and her family live in an exclusive gated community in a home that is a massive 19,000 sq ft and comes complete with a tennis court, swimming pool and endless rooms.
Article continues below advertisement
The lavish home is in one of the most sought after areas of Los Angeles and is decorated in an opulent French Regency style with gold finishes, heavy curtains and ornate touches throughout.
The copious amount of crystal chandeliers sparkle in the runway-like long halls and it appears like it would be easy to get lost in the mega mansion.
During a tour of her home for the hit Bravo show, Real Housewives Of Beverly Hills, Adrienne showed off her favorite room - the music room. It's filled with antique instruments, including a white and gold piano and a harp that she admits no-one even knows how to play.
Adrienne's impressive (and expensive) collection of Fabergé eggs, which run in the region of thousands of dollars each, are housed in a display cabinet as a reminder of her travels to Russia.
And she even has a massage room for when she and her husband want to have a rub down at the end of a hard day.
The businesswoman-turned-reality TV star and her four brothers run the family business that encompasses Palms Casino Resort in Las Vegas, the Sacramento Kings and various music and production companies.
Article continues below advertisement
The mother-of-three turns 50-years-old next month and is said to be worth $300 million.
Adrienne is married to plastic surgeon Paul Nassif and lives with their seven-year-old son Gavin and four-year-old twin boys Christian and Colin.
She lives right across the street from fellow cast mate Lisa Vanderpump, who is currently selling her property for a cool $29 million.
RELATED STORIES:
Brandi Glanville Flaunts Killer Curves As Real Housewives Of Beverly Hills Hits Hawaii