Exclusive
Brave Little 7-Year-Old Girl Having 57th Surgery After Violent Pit Bull Attack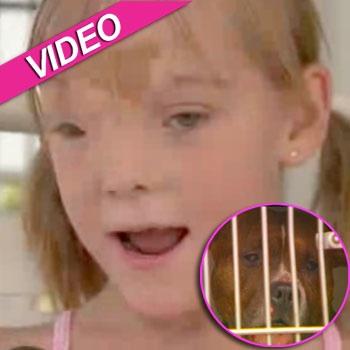 - RadarOnline.com Senior Reporter
After a horrifying attack by a vicious pit bull a brave little 7-year-old girl is about to have her 57th surgery to reconstruct her face after the dog mauled her in 2006.
Amaya Hess was in a stroller while her mom Bobbie Tomlin was taking her for a walk when a neighbor's pit bull grabbed her and chomped on her ear, eye, nose and ripped off her scalp.
After the attack Amaya spent three months in a coma, but now she's bounced back and is like all other little kids.
Article continues below advertisement
"Amaya is great," her mom told WSBT TV in Indianapolis, IL. "If you couldn't see a facial deformity you'd think she was a normal 7-year-old."
This will be Amaya's 57th surgery following the attack and with this surgery she may regain her vision in the eye by "basically pulling the eyelid back up off the eye so she has the opportunity to regain her vision after five years. It's huge. It's the one and only thing that she has asked for. She wants it and she's super excited to get it," Bobbie says.