Exclusive
Royals Visit Fire Ravaged Town; Next Stop, Calgary, Then Hollywood!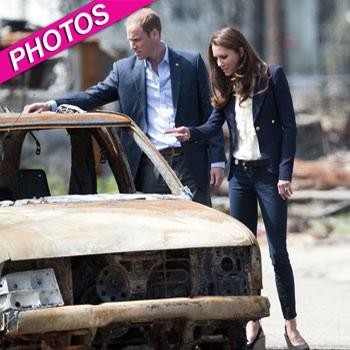 One day after visiting a town destroyed by fire, The Duke and Duchess of Cambridge, Prince William and Kate, continue their Canadian tour on Thursday in Calgary, Alberta; then on Friday, it's on to Hollywood!
Their agenda includes a visit to the University of Calgary's Ward of the 21st Century Research and Innovation Centre; a government reception in their honor at BMO Centre at Stampede Park; and a wreath-laying ceremony at Rotary Challenger Park.
Article continues below advertisement
On Wednesday, the caring couple ventured far from the luxuries of Buckingham Palace, visiting a town ravaged by a May wildfire.
The Royal pair dressed down for the trip to Slave Lake in Northern Alberta, which was destroyed by the natural disaster in May 2011.
While their heartfelt visit was welcomed, until the last moment to ensure their presence did not disrupt relief efforts.
"It wasn't a last-minute decision," said Canadian secretary to the Queen, Kevin MacLeod. "Their overwhelming concern was that they did not want a public announcement early on for fear that it would somehow detract from those people who are now putting in place all the reconstruction efforts."
William and Kate arrived on a private jet and were met by dignitaries before being led through the devastation complete with burned out cars and demolished buildings.
They also spent more than an hour meeting the victims of the wildfire which destroyed more than 40 percent of the town.
The newlyweds personally requested the visit to Slave Lake as part of their Canadian tour.
The royals begin their much-anticipated 3-day trip to California beginning Friday, and RadarOnline.com will be there to capture all of the action for you.