Sean Kingston Makes Surprise Comeback With Nicki Minaj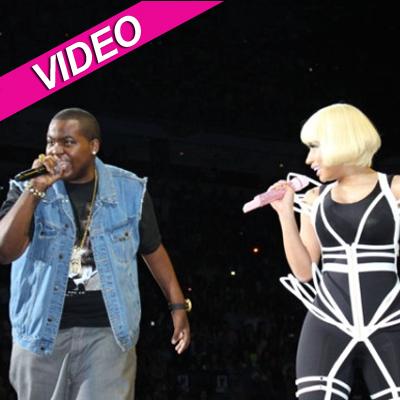 Sean Kingston made a surprise appearance on stage with Nicki Minaj Friday night, the first since his devastating jet ski accident.
The crowd went wild when Kingston joined Minaj on stage at the American Airlines Center, but no one seemed more excited than Sean himself.
"Just killed it on stage with the lovely @nickiminaj," Sean wrote on his Twitter page.
"Feels good to be back on stage!!! I'm alive...strong, and better than EVER."
Article continues below advertisement
And in a reflective mood, Kingston tweeted, "From every would there is a scar, and ever scar tells a story. A story that says, I survived."
Kingston was in a horrific jet ski accident just two months ago and his recovery was far from certain when he was airlifted in critical condition to a Miami hospital. His recuperation appeared to be complete last night, as he moved easily across the stage.
Minaj is out performing with Britney Spears as part of her Femme Fatale tour, and Kingston gave the headliner a Twitter shout out as well, thanking Nicki and Britney for "one kick ass concert."