Rupert Murdoch Says He's Sorry As Top Execs Resign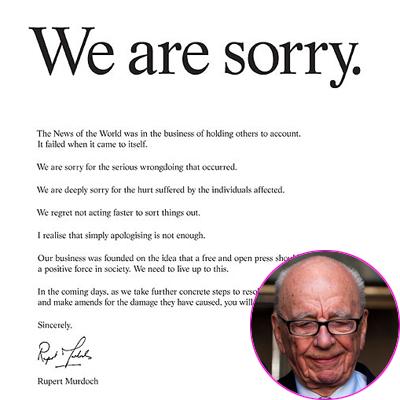 Rupert Murdoch says he's sorry. The embattled media mogul published a full page apology in his UK newspapers, The Sun and The Times of London on Saturday.
"We are sorry for the serious wrongdoings that occurred," the letter said. "We regret not acting faster to sort things out."
Rupert Murdoch Apologizes In Advertisement
The phone hacking scandal that has turned Murdoch's media empire on its head, and resulted in the closing of his News of the World newspaper, on Friday continued to snowball with two of his top lieutenants resigning.
Article continues below advertisement
Les Hinton, CEO of Dow Jones -- publisher of The Wall Street Journal -- ended his 52-year career with Murdoch. And Rebekah Brooks, CEO of Murdoch's News International, also handed in her termination papers.
Murdoch is scheduled to appear before the British Parliament on Tuesday, but there is no indication his published mea culpa is going to be nearly enough to placate the outraged public.
RELATED STORIES: