Exclusive
Rosario Dawson Shows Off Her Best Bikini Body Ever, Opens Up About Loss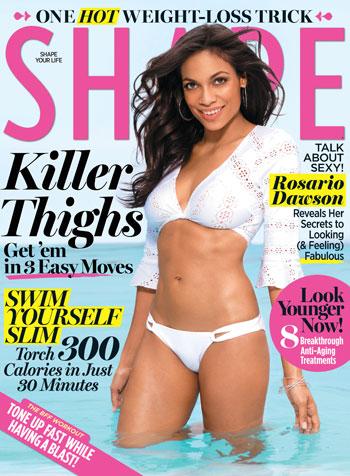 The Zookeeper star Rosario Dawson stripped down for the August issue of Shape Magazine – and she couldn't look any sexier! The 32-year-old, who lost her beloved grandmother and ended a long-term relationship with her French DJ beau Mathieu Schreyer in May, opened up during a heartfelt and teary interview with the fitness magazine and explained how a positive attitude can be the game-changer.
After spending 10 days at the Cannes Film Festival promoting her rom-com with Kevin James, the gorgeous star returned to Los Angeles and received the heartbreaking news that her grandmother, Mima, had passed. Despite the loss, Rosario refuses to let grief keep her down.
Article continues below advertisement
"Grief is so seductive," she admitted to Shape, only two weeks after her grandmother's passing.
"Part of me wants to crawl into a hole and cry because nothing else matters, but that's just not an option."
Instead, the actress turned to her charity work with the organization V-Day, which helps rape and violence victims.
"Since Mima's passing, I have this sense of urgency and all this energy to get things done," she explains.
"I need to stay furiously passionate for the rest of my life. I don't want my tombstone to read: 'She played it safe.'"
The August 2011 issue of Shape Magazine is available on newsstands July 25th.