Prince William Leads Polo Team To Victory & Earns A Kiss From Kate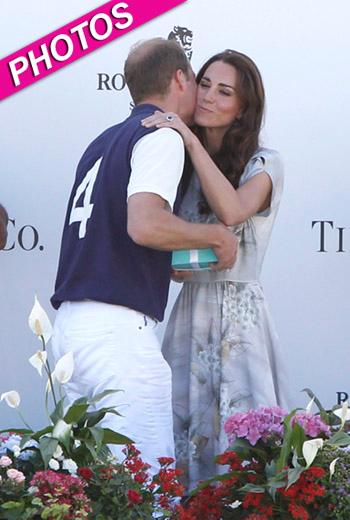 Prince William lead his Royal Salute team to victory at the Santa Barbara Polo & Racquet Club Saturday. That earned him a trophy and a kiss from his beautiful bride.
During the match, Kate sat a respectful distance away from the field -- RadarOnline.com has learned that the Duchess of Cambridge is allergic to horses!
Just before the competition, William told supporters, " I was so delighted when Ambassador Holden asked me to play polo here, at the Santa Barbara Polo and Racquet Club. It has to be one of the most beautiful polo grounds anywhere in the world. As a keen polo player, it's also an honor for me to celebrate with you this afternoon this famous Club's 100th birthday. My father, The Prince of Wales, and my brother, Harry, were as green as that grass out there when I told them I'd be here.
Article continues below advertisement
"Catherine and I have had a busy few days - so the prospect of being able to let loose this afternoon is wonderful for me. But that's what sport is all about – be it polo or football – more specifically how sport helps young people to find purpose in life – is a key element to the Foundation that Catherine, Harry and I have established.
"But today is about Santa Barbara polo - a hundred glorious years. Thank you Ambassador Holden. Thank you Tiffany's for the beautiful Foundation Cup. Here's to the next century – happy birthday!"