Prince William & Kate Return To London – By Commercial Flight!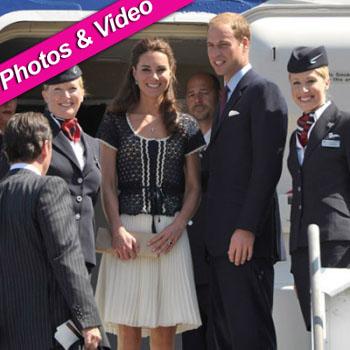 By Adam S. Levy - RadarOnline.com Staff Writer
Prince William and Kate arrived in their native England on Monday, and in a surprising move, they flew commercial – taking a British Airways flight!
The Royals low-key return to the mother country follows a glitzy weekend in Southern California preceded by a jam-packed nine days in Canada.
The Los Angeles leg of the trip established the royals as the toast of Tinseltown, as the couple, just married in April, was very well-received on what was Kate Middleton's first trip to the United States.
Article continues below advertisement
Here's how they spent their weekend:
On Friday, California Gov. Jerry Brown welcomed the royal couple as they arrived at LAX Airport in the afternoon, and boarded a Range Rover that would take them into the city.
Upon arriving, they met with a group of venture capitalists, business leaders and philanthropists, before heading to a Consular-General Reception in Hancock Park held by the United Kingdom Trade and Investment.
On Saturday afternoon, it was off to the Santa Barbara Polo & Racquet Club, where polo player Prince William led his team to victory in a charity match to benefit the American Friends of the Foundation of Prince William and Prince Harry.
In the most romantic moment of the jet-setting weekend, Kate gave her hubby a kiss when presenting him with the trophy.
On Saturday night, Prince William and Kate were the guests of honor at a British Academy of Film and Television Arts dinner to pay tribute to the U.K.'s top filmmakers.
Article continues below advertisement
Stars like Jennifer Lopez, Tom Hanks, Reese Witherspoon, Nicole Kidman and Barbra Streisand hobnobbed with the royals at the event, which was held at the 1926 Belasco Theatre in downtown Los Angeles.
On Sunday, they began their itinerary with a private breakfast with supporters of African wildlife conservation group Tusk Trust.
Then, they were front-and-center at a dance recital featuring kids from the Inner-City Arts School, a non-profit establishment in the city's gritty Skid Row section. Inner-City Arts co-founder Bob Bates said the charming couple came off "like your oldest friends and family," and that the "kids really took them to heart."
After that, they were welcomed to Culver City's Sony Studios by Sony C.E.O. Sir Howard Stringer. There, they attended the Service Nation: Mission Serve job fair, aimed to find unemployed veterans jobs.
Said the prince: "This is the last event on our tour of North America, but to my mind, it is one of the most important. Service Nation Mission Serve, and all the companies and employers taking part today, are providing opportunities which mean something very immediate and personal to us."
Article continues below advertisement
The prince made the audience laugh in taking a playful jab at his brother, Prince Harry (Both are enlisted in the British military).
"I am delighted, therefore, that our Foundation -- and in that I include my low-flying Apache very average brother -- is a partner in today's event."
To finish, the prince thanked the locals for giving him and Kate the royal welcome while in town.
"I would just say, on behalf of us both, how grateful we are to have been welcomed so warmly in the Golden State and the City of Angels. Thank you so much."
The festivities concluded as the elegant pair headed to Los Angeles International Airport, flanked by a motorcade of 17 California Highway Patrol officers.
They were elegantly dressed for their departure, as the prince wore a navy blue suit, while Kate glimmered in a black-and-white dress. After saying goodbye to their well-wishers, they departed on a British Airways commercial flight shortly after 4 p.m. PT, heading back to the motherland after the jam-packed Tinseltown weekend.