Prince William & Kate Join Poor Kids At Art Center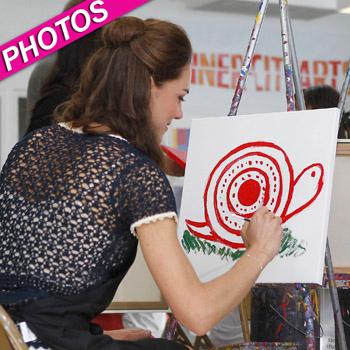 After hobnobbing with the rich and famous at black tie galas, VIP receptions and a polo match, the Duke and Duchess of Cambridge turned their attention to the impoverished of Los Angeles.
On Sunday William and Kate went to Inner-City Arts on L.A.'s notorious Skid Row. The center is a non-profit that assists kids whose families have been effected by homelessness and poverty.
Arriving just after 11.30 am, the royal couple spent hours at the center, where children are taught to dance, sing and perform. They met with the staff and shook hands with every one of the students.
Article continues below advertisement
They both made clay handprints, and Kate took a crack at drawing, although she laughingly told her new husband she wasn't sure if the result was "a tortoise or a snail."
The couple had previously been driven around the Skid Row area -- known as the homeless capital of the world -- accompanied by Inner-City Arts president and CEO Cynthia Harnisch.
Children from the center greeted the nelyweds with a banner that read "Welcome to Inner-City Arts."