Nick Lachey's Wet & Wild Bachelor Party Weekend In Vegas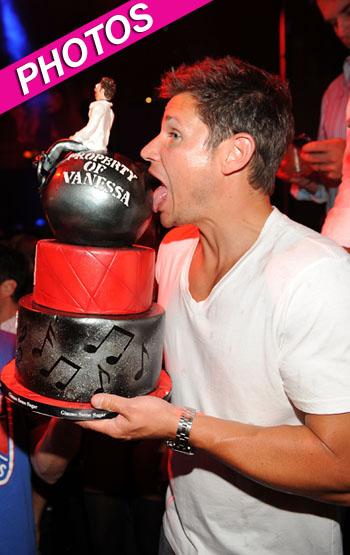 He's about to be tamed by married life, but Nick Lachey let lose for a crazy Las Vegas bachelor party weekend.
Complete with whisky shots, champagne and even a mini wife-to-be stand-in for Vanessa Minnillo, the Sing Off host waved goodbye to the single life.
It was a boys only event, but his future bride made sure she wasn't forgotten.
When Nick partied Friday night away with VIP treatment at TAO nightclub, he was presented with a ball and chain cake inscribed with "Property Of Vanessa," a nod to Minnillo's own bachelorette party where she announced "I'm about to get a ball and chain."
Article continues below advertisement
And while soaking up the sun Saturday at TAO Beach a 'mini Vanessa' - organized by his fun loving fiancee - delivered a bottle of Veuve Clicquot Champagne to the star.
Minnillo was famously serenaded by a 'mini Nick' at her party a few weeks earlier.
Lachey - who was married to Jessica Simpson from 2002 to 2006 - was joined by 30 of his friends, including his brother Drew Lachey and Houston Texans quarterback Matt Leinart.