Lady Gaga Moved To Tears On 'So You Think You Can Dance'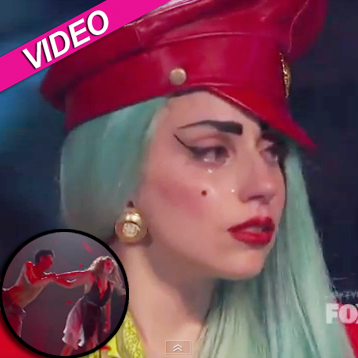 By Adam S. Levy - RadarOnline.com Staff Writer
Lady Gaga, serving as a guest judge on Wednesday's edition of So You Think You Can Dance, was moved to tears by the passionate routine contestant Marko Germar dedicated to his mother Sonya, his way of thanking her putting up with his bratty antics when he was growing up.
Following Germar's dance with Allison Holker, Gaga -- sporting another one of her unforgettable get-ups (think a red, floral Sgt. Pepper) -- cried, moved by the raw emotion Germar conveyed with his steps.
Article continues below advertisement
"I'm just so proud of you ... you really love to dance and I know your mom's here," the Born This Way singer told the hopeful. "There were so, so many things I did wrong when I was younger, and so many things I wish I could take back. And I felt every moment of that through your dance tonight.
"You are absolutely incredible, and congratulations: Number one, number three, number 10, who cares? You got it!"
Germar explained how his love for his mother -- who had flown in from Guam the day before to watch him perform -- had brought out the fire in his belly.
"I actually dedicated that piece to her," the raspy-voiced Germar said of his mother Sonya, who was seen in the audience looking misty-eyed herself. "I wasn't the best kid -- I was a bit of a brat -- I said some things and I wanted to make sure you know, I'm sorry, I love you."
Article continues below advertisement
Watch the video on RadarOnline.com
Earlier in the evening, the Judas singer gave her ringing endorsement -- and an offer of employment -- to contestant Melanie Moore.
"My hat's off to you, baby," Gaga told Moore. "You are my favorite in this competition. I would hire you tomorrow to dance on my tour all around the world."