Female Marine Asks Out Justin Timberlake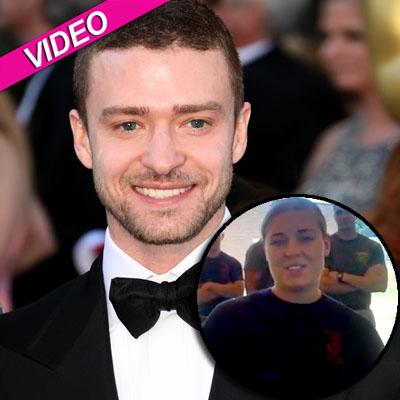 By Adam S. Levy - Radar Staff Writer
Justin Timberlake sang it best: What goes around comes all the way back around.
Just days after he persuaded his Friends With Benefits co-star Mila Kunis into accepting a date with a marine that asked her to a Marine Corps Ball via YouTube, the Sexy Back singer has been asked out himself by a female marine named Cpl. Kelsey De Santis.
"Hey Justin, you want to call out my girl Mila?" Cpl. De Santis says in the video. "Well, I'm going to call you out and ask you to come to the Marine Corps Ball with me on November 12 in Washington D.C.
Article continues below advertisement
"If you can't go, all I have to say is, cry me a river. Hit me up."
As we previously reported, Sgt. Scott Moore, a marine currently stationed in Afghanistan, posted a 19-second video to YouTube in which he asked Kunis to accompany him to the Marine Corps Ball in Greenville, North Carolina this November.
Kunis told Fox News that Timberlake coaxed her into accepting, telling her, "You need to do it for your country!"