Jennifer Aniston On Filming The Break-Up After Split: 'Turn The Page. Let's Move On'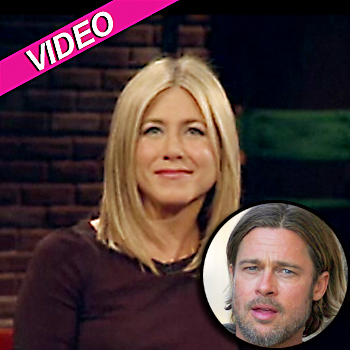 by RadarOnline.com Staff
The Jennifer Aniston 'Brad breakup' comment finally aired on Bravo's Inside The Actor's Studio Monday night.
Last week, Bravo teased us by releasing transcripts from Aniston's conversation with host James Lipton in which the Friends star referred to her breakup with Brad Pitt. Now, we have the video!
Aniston's comments came after Lipton asked her what drew her to the film, The Breakup, with Vince Vaughn.
Article continues below advertisement
Although Aniston – nor Lipton, for that matter – ever mentioned Pitt by name, Aniston said: "It was just a beautiful human story about this couple breaking up, and I could kinda, you know... I was slightly familiar with the topic and issue, and so I honestly felt like, what a great way to sort of exorcise some of that."
Watch the video on RadarOnline.com
The actress indicated that filming a movie about a painful breakup proved to be somewhat cathartic for her.
"Did that familiarity make it easier or harder?" Lipton asked.
"Easier, oddly. I enjoyed it. I really enjoyed it," she said. "You would think otherwise, because even the producers were like, 'I don't know if we should ask you to do this,' and I was like, 'Why not? Turn the page, let's move on.'"
Over the years, Aniston has rarely spoken about her 2005 split with Pitt and his hookup with his Mr. and Mrs. Smith co-star, Angelina Jolie.
Article continues below advertisement
Aniston last addressed her divorce with Elle UK magazine in 2009, saying: "There is no bad guy and there is no good guy. There are no villains and there is no heroine in this story. It's just not the case."
In an interesting note, actor Justin Theroux -- Aniston's new love and co-star in the upcoming film Wanderlaust -- was front and center in the audience during the taping, but Lipton never asked any personal questions about the new man in her life.