Crystal Harris Parties After Break-Up With Hugh Hefner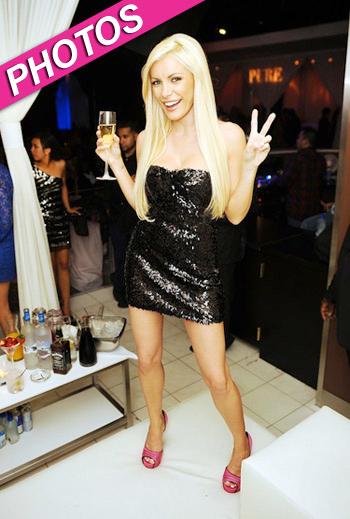 Hugh Hefner's almost-bride Crystal Harris continued to enjoy the single life Friday night as she partied it up at PURE Nightclub in Caesars Palace, Las Vegas.
The former Playboy model who ended her relationship with Hefner just five days before they were set to walk down the aisle, spent the night at the VIP table on the club's main stage.
Wearing a black strapless sequin cocktail dress by Hotsauce with hot pink peep-toe pumps, both available at FlirtCatalog.com, Crystal looked happy and excited as she drank champagne and danced with her friends.
Article continues below advertisement
The 25-year-old blonde bombshell then jumped into the DJ booth and received a special one-on-one lesson from PURE's resident mixmaster, DJ Shift.
Crystal even pulled a male admirer out of the crowd and hand fed him strawberries as the crowd cheered.
Crystal was set to wed Hefner, 85, in a lavish ceremony at the Playboy mansion on June 19 but she called off the wedding just five days beforehand.
The lead up to the wedding and Crystal's change-of-heart was all filmed for a Lifetime special called Hef's Runaway Bride, which will air on July 19.