Exclusive
Crystal Harris Says She Was Lonely Living In Playboy Mansion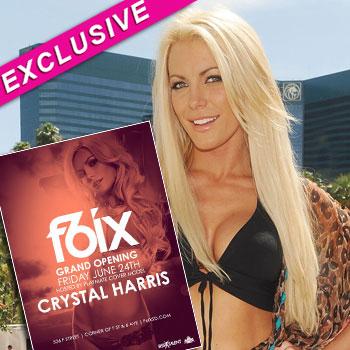 - RadarOnline.com Senior Reporter
It wasn't all fun and games.
Crystal Harris says living with Hugh Hefner in the infamous Playboy Mansion wasn't as great as it sounds.
"I was a little bit lonely in the Mansion," the July cover girl told RadarOnline.com. "I couldn't go anywhere. I have a lot more freedom now."
The infamous curfew imposed on Hef's fiancée put a lot of restrictions on her lifestyle. "I'm learning to live life after 9," Crystal said.
Article continues below advertisement
Friday night Crystal is hosting the F6IX nightclub opening in her home town of San Diego. "I'm going to have fun at the club; it will be a great night."
"We're thrilled to have Crystal Harris coming home to San Diego just to help us celebrate the grand opening of F6ix, San Diego's only upscale hip hop night venue." says F6ix talent manager Matt Cohen.
"I can't think of a better way for her to forget her troubles than to dance to great music and let loose in here" says owner Mike Georgopoulos.
As for her ex-fiancé, Crystal said they're still really close. "It has been easy seeing him, he just wants to be friends and so do I."