Casey Anthony Murder Trial – Jury Deliberates For Second Day Tuesday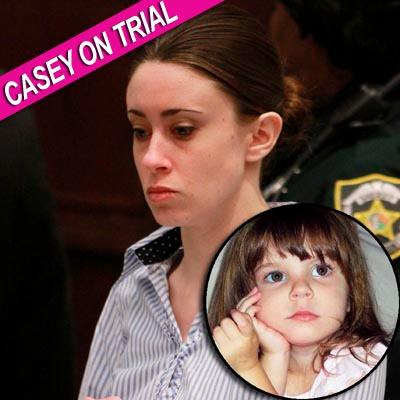 By Neil Woulfe - Radar News Director
The jury in the Casey Anthony murder trial in central Florida will begin its second day of deliberations Tuesday.
The 12-person panel -- consisting of 7 women and 5 men -- worked for nearly six hours Monday without returning a verdict. Another interesting part of the jury's makeup: 6 of them are parents. (The prosecution argued that no good parent would party while their child was allegedly missing).
Article continues below advertisement
The jury will resume its deliberations at 8:30 am ET Tuesday. Unlike Monday, when the judge said that deliberations would end at 6pm ET that day, there is no time limit on Tuesday.
The emotionally-charged case finally went into the hands of the jury on Monday – after 33 days of testimony and a day and a half of dramatic closing arguments.
Anthony, 25, is accused of killing her two-year-old daughter Caylee Marie and then disposing of her body during the summer of 2008; her body was found in December of 2008. The defense claims Caylee accidentally drowned and her mother panicked, and with the help of her father George, hid the body.
Evidence Photos Introduced Into Casey Anthony Murder - See The Photos
Monday's session began at 8:30 am ET with the prosecutor giving his rebuttal to Sunday's closing defense argument. Prosecutor Jeff Ashton called the defense's claim that Caylee had drown "absurd."
Defense attorney Jose Baez moved for a mistrial, and Judge Blevin Perry immediately responded, "motion for mistrial is denied."
Article continues below advertisement
The judge then gave the jury detailed instructions about each of the pending charges, which include murder, aggravated assault and providing false information to law enforcement officers.
The jury has the entire 23rd floor of a downtown Orland, Florida building to call their own while they consider the evidence.
When jurors do reach a verdict, if it is first-degree murder, they'll have to move directly to the penalty phase, which means more testimony and deliberation over the death penalty.
In all, Casey is charged with first-degree murder, aggravated child abuse, aggravated manslaughter of a child and four counts of lying to law enforcement. The child abuse and manslaughter charges each carry a 30-year prison term if convicted.
Casey has pleaded not guilty to first-degree murder and could face the death penalty if convicted of that charge.
RadarOnline.com will resume its live stream coverage when the jury returns with its verdict.