Exclusive
D-Day: Carmageddon Is Here!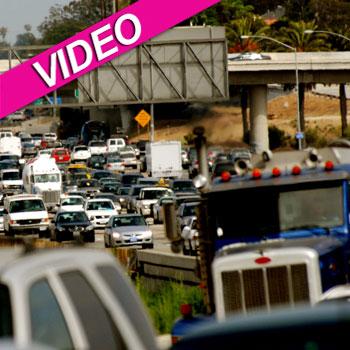 By Amber Goodhand - RadarOnline.com Staff Reporter
After much anticipation and dread among local Los Angeles residents, the day has come — it's Carmageddon!
Many celebs have already skipped town or made plans to stay home in an effort to avoid the closing of the 405 for construction and all the congestion that will follow.
Check out what Hollywood is saying on Twitter:
Adam Levine — "I think I want to throw a tailgate party for Carmageddon. Meet me at the 405 tomorrow. Let's party."
Article continues below advertisement
Paris Hilton — Hey LA, who's scared of Carmageddon? I'm not leaving my house to drive anywhere this weekend. Traffic is going to be #bRutal!
Busy Phillipps — Guys, let's keep this Emmy thing in perspective- we are a DAY away from CARMAGEDDON here in LA. So exciting!!!
Kyle Richards — I think #Carmageddon has already begun. Maybe people are getting out of LA early.
Mark Salling — Los Angeles is already carmageddon... I'm frightened.
Marlee Matlin — G'morning! Overcast in LA, everyone's gearing up for Carmageddon when our big freeway closes and I've got some meetings today. Be safe!
Michelle Trachtenberg — Dear @jk_rowling , would you please ask #HarryPotter to make #Carmageddon disappear? Sincerely, The People of Los Angeles
Whitney Port -- This is why I'm staying far far away from LA this weekend... http://t.co/xREQrQm It's going to be chaos!
Article continues below advertisement
Colin Hanks — OHHHHHHHHHH. Its CARmageddon, not KARMAgeddon. Well, that not nearly as scary. #StillNotLeavingMyHouseThisWeekend
Lo Bosworth — Hearing #Carmageddon is going to be worse than we think. Nightmare!
David Katzenberg -- There is a giant cloud following me today. #Carmageddon
Los Angeles Mayor Antonio Villaraigosa -- 1 day until @I_405 closure! Stay local, shop in LA, take public transportation to help avoid #carmageddon!
A 10-mile section of the 405 will be closed from 7 p.m. on Friday until 6 a.m. on Monday, leading many businesses to close early and many companies to let their employees out of work early on Friday to avoid the dreaded gridlock.
RadarOnline.com has compiled a list of deals that companies are running or services being provided to help make Carmageddon as painless as possible:
JetBlue airlines are offering $4 flights between Burbank and Long Beach, California.
Article continues below advertisement
Neuro will be handing out bottles of their NeuroBliss functional drinks on Saturday, July 16 at two locations — the Chevron station at the corner of Sunset Blvd. and Crescent Heights and the Chevron station at the corner of Laurel Canyon Blvd. and Kling Street.
Shopping centers such as Westfield Culver City Mall and Westfield Century City Mall will be holding block parties featuring special offers, giveaways and tailgate parties.