Angelina Jolie And Brad Pitt Attend Sarajevo Film Festival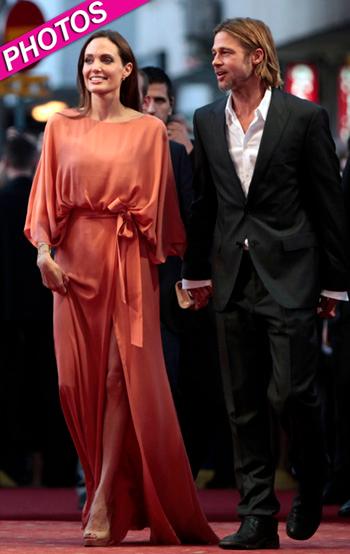 Actress, humanitarian and new filmmaker Angelina Jolie was honored at the Sarajevo Film Festival Saturday, and she had partner Brad Pitt beside her for support.
The couple waved to the cheering crowds before Angelina, 36, was awarded the Honorary Heart Of Sarajevo award during the festival's closing ceremony in the Bosnian capital.
Angelina looked stunning in a draped Elie Saab gown, while Brad, 47, went for a more relaxed look in an open collared shirt and a dark suit.
Article continues below advertisement
She held back tears and placed her hand on her heart as she accepted her award from the festival's director.
Angelina's directorial debut, The Land Of Blood And Honey, is about a Muslim woman and a Serb man who fall in love at the beginning of the war in Bosnia during the 1990s – a highly controversial subject, even to this day. It was shot on location.
As the Goodwill Ambassador for the United Nations High Commissioner on Refugees, Angelina has been to Bosnia-Herzegovina on several occasions in addition to when she filmed there.