Will Huma Abedin Be 'The Good Wife' & Stand By Anthony Weiner?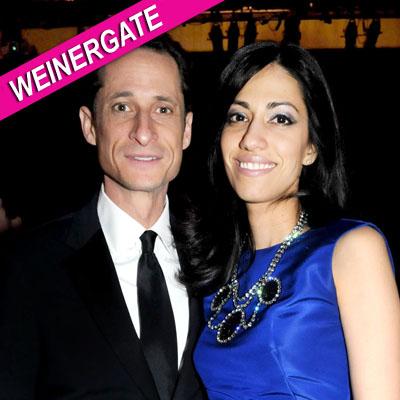 Now that Anthony Weiner has decided to resign, the million-dollar question is: Will his pregnant wife Huma Abedin stand by him at his news conference in Brooklyn at 2pm ET (ala TV's The Good Wife), and furthermore, will she stay married to her husband of less than a year.
Whether Abedin attends the news conference remains to be seen, but early speculation points to her staying in the marriage: Last week, we learned that Huma -- who's carrying the couple's first child -- has been telling pals while she was saddened by her husband's actions, she remains committed to her marriage.
Article continues below advertisement
And as we previously reported, the beautiful and successful 34-year-old aide to Secretary of State Hillary Rodham Clinton was aware about Weiner's sexting habit before they exchanged "I do's" last summer, though he'd declared those days were behind him.
While Abedin was notably absent during Weiner's emotional news conference earlier this month, Weiner, 46, told reporters the couple had "no intention of splitting over this." She is said to have watched his news conference on TV in New York.
All that said, let's take a look back at other wives involved in past political scandals, and how they reacted.
Hillary Rodham Clinton: Perhaps the most famous cheated-on spouse in American history, Clinton stood by husband, then-Pres. Bill Clinton, during a series of humiliating, highly-publicized sex scandals (Paula Jones, Monica Lewinsky) during the apex of Bill's political career in the 90s.
Jenny Sanford: The ex wife of former South Carolina Gov. Mark Sanford filed for divorce in December 2009, after her husband admitted to a fling with an Argentinean beauty. She cited adultery as her grounds for divorce. When Sanford held his news conference to admit his infidelity, she did not appear beside him.
Article continues below advertisement
New Jersey Gov. Jim McGreevey's ex Dina Matos McGreevey stood by her husband with a blank expression on her face during an August 2004 news conference in which he admitted, "I am a gay American" then resigned from office. She later said in her memoir, Silent Partner: A Memoir of My Marriage, her ex told her, "You have to pull yourself together ... you have to be Jackie Kennedy today," prior to the news conference.
Maria Shriver: The jury's still out on this one, but all signs point to a split: After the news broke her husband, former California Gov. Arnold Schwarzenegger had fathered a child with their family housekeeper, Shriver filed for separation and moved out of the family's Brentwood home. Arnold has yet to speak publicly about the scandal.
UPDATE: Huma did not attend the news conference!
RELATED STORIES: