Exclusive
Toddlers & Tiaras Mom Bleaches Young Kids' Teeth – Watch Shocking Video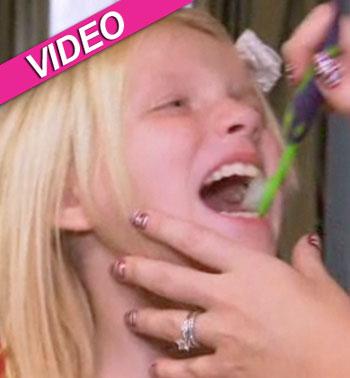 - Radar Senior Reporter
Spray tan? Check. $1,000 costume? Check. False Eyelashes? Check. Teeth bleached on a 5 and a 8-year-old? Double check!
The upcoming episode of Toddlers & Tiaras obtained by RadarOnlie.com shows pageant mom Lori bleaching her young children's teeth, even though she admits the bleach is "disgusting."
"I bleach my children's teeth at least once a week, whether we have a pageant or not," Lori says about her kids Alaska, 8, and Braxton, 5. "There is no harm in bleaching their teeth," the mom insists.
Article continues below advertisement
A typical pageant child might wear what is called a "flipper" or fake teeth, but Lori won't let her children pop them in, explaining, with no apparent hint of irony: "You're altering what God gave them."
The kids hate the "disgusting" tasting bleach, but mom insists on the weekly treatments, even when daughter Alaska tries to get out of it. "Your teeth are so yellow compared to his!" Lori scolds.
"I bleach their teeth all the time, they love it," she claims, despite the youngsters' protests to the contrary.
Meanwhile, Lori does seem to have a sense of humor regarding the treatments, joking with her husband that the teeth bleach is next to a book she's reading in the bathroom.
TLC's Sister Wives - See The Photos
The book? The 7 Worst Things Parents Do.
Toddlers & Tiaras airs on Wednesday at 10/9 C on TLC.