Exclusive
'Teen Mom' Gary Shirley Uses Gay Slur, Apologizes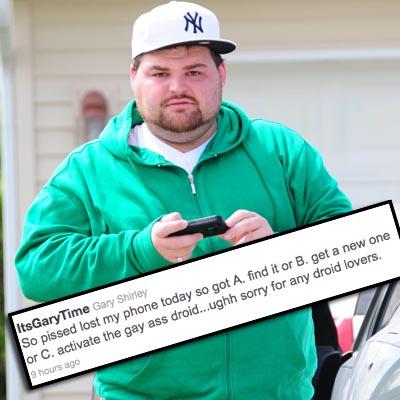 Teen Mom star Gary Shirley used the word "gay" to express anger on his Twitter account, and paid the consequences with a barrage of messages from displeased followers.
"So p***ed lost my phone today so got A. find it or B. get a new one or C. activate the gay ass droid...ughh sorry for any droid lovers," Gary tweeted in the early hours of Wednesday morning.
Apparently unaware that he had offended anyone and grossly misused the term, it took Gary eight hours to issue an apology.
Article continues below advertisement
"The word Gay is used with several meanings i did not use it to describe a person, but an object. so don't take it out of context," he tweeted.
"honestly anything anyone says could offend someone just be strong person an ignore it i do. but no means am i sexiest. be what u want..."
With Gary's self-professed knowledge of the English language, he attempts to convey that he is not sexist — but instead says he's not sexiest. Duh!