Exclusive
VIDEO: Sugar Ray Leonard On Hiding Childhood Sexual Abuse 'It Was Killing Me Inside'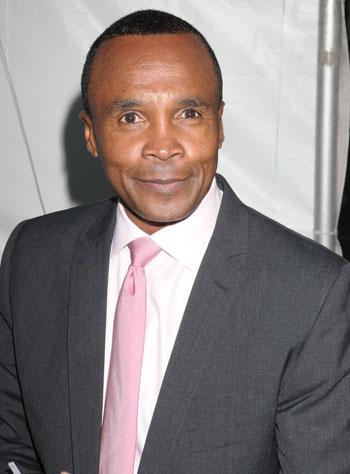 Boxer Sugar Ray Leonard has said that he is glad that he finally opened up about the sexual abuse that he suffered as a teenager at the hands of his coach because the horrific secret was "killing" him.
In an interview with CNN news on Thursday, the 55-year-old boxing champ explained how much the confession has helped him come to terms with the abuse, and RadarOnline.com has video of the heart wrenching interview.
Article continues below advertisement
"I had to get that out because it was killing me inside, I was dying inside. I told no one. I kept this to myself for 30 something years," Leonard told the news network.
"I said it to my first wife Juanita but I said it under the influences of alcohol, because a guy doesn't talk about those things, especially me as a fighter. I could have kicked their (his abuser's) butt but I didn't."
In his shocking memoir, The Big Fight: My Life In and Out of the Ring, that hit book shelves on Monday, Leonard revealed for the first time how he was sexually abused by a "prominent Olympic boxing coach" when he was 15-years-old.
According to the New York Times, the champ said the incident took place after the coach (who he did not name) took him, and another teen boxer, to a match in New York in 1971. Leonard said the man had him take a bath with the boy and watched from afar, and they knew "something a bit inappropriate'' was happening.
The five-time world champion, who appeared on Dancing with the Stars this season, said another incident took place years later in a car with the same man.
Article continues below advertisement
"Before I knew it, he had unzipped my pants and put his hand, then mouth, on an area that has haunted me for life. I didn't scream. I didn't look at him. I just opened the door and ran."
The boxer said on Thursday that he is thankful that the truth is finally out and credits his half-decade of sobriety with allowing him to deal with the demons.
"My life is not a sad story, I had a wonderful career, I had wealth, I had fame. I had obstacles that I had to overcome and this book was so cathartic and therapeutic that it released things that I had on my chest so long," he told CNN.
MORE ON:
Sugar Ray Leonard
"I am so glad that I am releasing this, as painful as it is, it's OK…I learned to surrender though my program," explained Leonard. "I'll be sober five years in July and that is my biggest accomplishment."
Earlier in the interview Sugar Ray talked candidly about his past drug and alcohol problems that stemmed from his teenage secret.
"I was hurting inside big time for 30-something years," said Leonard, who didn't take drugs while fighting or training but began using when an injury forced him to suspend his dream.
Article continues below advertisement
"This only really occurred and began to escalate back in 1982 when I retired, my first of many retirements," he explained. "I was 25 years old and at the top of my game, I retired over a detached retina and I was in a state of limbo.
"I resorted to my band-aid, which was cocaine and alcohol, and I did a lot. I became less of a father, less of a husband. I was just a jerk, I started believing the hype too much. Because I didn't have boxing and because of what happened to me when I was 15, 16, I was hurting."