VIDEO: Shania Twain Falls At CMT Awards; Posts Video Making Fun Of Herself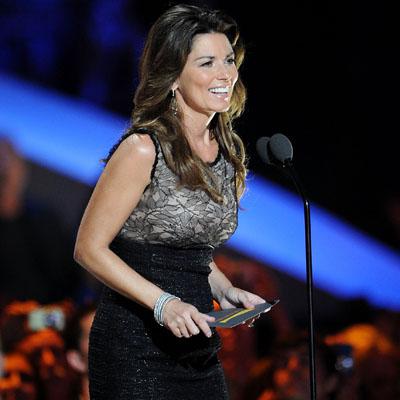 Country singer Shania Twain took a scary spill Wednesday night at the CMT Awards.
Twain was making her way to the stage to present the Best Male Video Award when she slipped in her heels and landed on her knees.
Once she took the stage, the singer seemed a bit flustered but laughed it off, as the audience cheered her on.
(The award, incidentally, went to no-show Blake Shelton for his Who Are You When I'm Not Looking. )
Article continues below advertisement
After the show, Twain posted a video on her site laughing about "making a fool of myself," and assuring fans that, "I didn't hurt myself. I have a bit of a sore stomach - that's about it."
Twain also said she plans to "auction off" the heels that she was wearing when she took a tumble. "I never want to see those shoes again. Or maybe I should keep them as a souvenir?"
Earlier in the day, Twain – who at one point lost her voice and her confidence after her marriage imploded-- announced that she had signed a two-year deal to perform at the Colosseum at Ceasars Palace in Las Vegas.