Exclusive
PHOTOS: The Olsen Twins Celebrate 25 Years Of Unique Fashion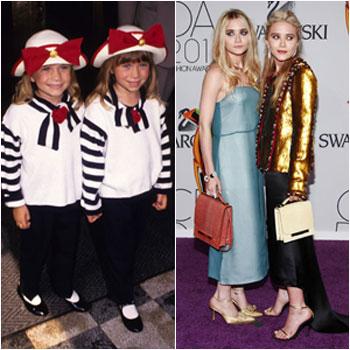 Happy birthday Mary-Kate and Ashley! The Olsen twins turned 25 Monday and to celebrate their milestone we take a look back at some of their most memorable fashion moments.
Having been on television since they were a year old, the former Full House stars are used to being the object of attention. Just like any normal twin children, the Olsens often wore matching outfits when they first starting going to red carpet events, looking doubly cute in striped dresses, huge hats, girly bows and ribbons.
Article continues below advertisement
As they grew up, Mary-Kate and Ashley starting developing their own unique but complimentary styles. Ashley was often more colorful and fun, as Mary-Kate stuck to more dark, baggy looks.
The twins' personal style has often been described as 'homeless chic' because of their love of over-sized clothes, winter woollies (even in summer!) and huge bags.
The millionaires recently revealed they used the look to defend themselves against photographers when they first became students at New York University, while Mary-Kate admitted that the numerous layers were also to protect against the bitter New York winters, and because of "laziness."
The entrepreneurs turned their passion for fashion into a business when they launched a young women's clothing line for Walmart in 2004, and have since started marketing for the more mature market with their high end clothing line, The Row.
Whether hiding under thick sweaters, wrapped in fur jackets or sparkling in silver and gold, Mary-Kate and Ashley always make a strong fashion statement wherever they go.