VIDEO: NY TV Reporter Nearly Blown Off Overpass On Live TV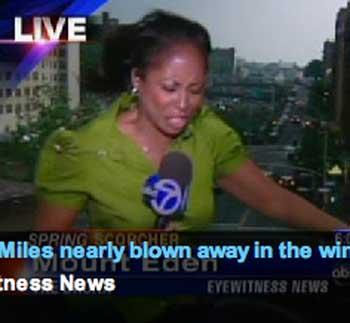 And you thought Chicago was the Windy City…
WABC-TV reporter Darla Miles was nearly swept away by strong gust of wind Thursday night while delivering a live on-air report about the heat wave gripping New York.
The clip – that's sure to go viral -- has a scary element to it, as Miles was standing atop an overpass and appears to lose her balance at one point.
WABC-TV reported that no one, including Miles or her crew, was injured.
Article continues below advertisement
Watch the video on RadarOnline.com
Newscasts have been fertile grounds for viral videos, as a clip of LA-based CBS reporter Serene Branson burned up the web in February, when she lapsed into gibberish during a Grammy report. Some speculated she might have had a stroke on-air, but she turned out to be fine.
RELATED STORIES: