Exclusive
Twilight Big Winner At MTV Movie Awards; All The Drama & All The Winners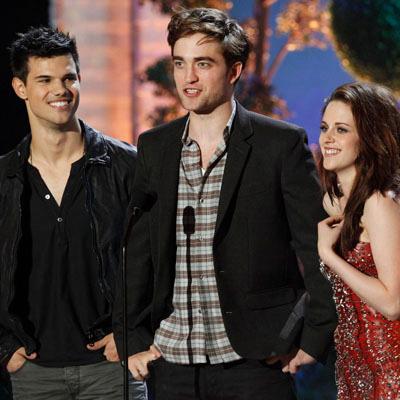 by RadarOnline.com Staff
Twilight was the big winner at Sunday night's MTV Movie Awards in Los Angeles, taking home 5 popcorn trophies, including Best Film.
Robert Pattinson was the star of the evening, dropping the F-bomb, locking lips with co-star Taylor Lautner and collecting awards for Best Kiss, Best Fight and Best Male Performance for The Twilight Saga: Eclipse.
Host Jason Sudeikis, not surprisingly, made Arnold Schwarzenegger the source of many jokes throughout the night, including one zinger: "Watch out for his next film, Pumping the Iron-er."
Article continues below advertisement
Selena Gomez came in for a little light ribbing too - Sudeikis commented on Selena and Justin Bieber sucking face all week and warned the blushing teen to be careful as she had already swallowed three of Bieb's baby teeth!
Justin Timberlake and Mila Kunis spiced things up with an on stage grope fest... After denying they are dating and insisting they are like "brother and sister."
Robert Pattinson turned the air blue by dropping the F bomb and his Water For Elephants co-star Reese Witherspoon followed up with one of her own then proceeded to rip reality TV stars and celebrities that make sex tapes.
But leave it to Gary Busey to steal the show as he rolled on stage to present the final award - in a giant hamster ball!
The full list of the night's winners:
Best Male Performance - Robert Pattinson (Twilight Saga: Eclipse)
Best Villain - Tom Felton (Harry Potter and the Deathly Hallows - Part One)
Best Fight - Xavier Samuel and Bryce Dallas Howard Vs Robert Pattinson (Twilight Saga-Eclipse)
Best Jaw Dropping Moment - Justin Bieber (Never Say Never)
Article continues below advertisement
Best Kiss - Robert Pattinson and Kristen Stewart (Twilight Saga-Eclipse)
Best Line From A Movie- "I want to get chocolate wasted" from Grown-Ups.
Best Scared As (beep) Performance- Ellen Page (Inception)
Best Breakout Star- Chloe Grace Moretz (Kickass)
Best Female Performance- Kristen Stewart (Twilight Saga: Eclipse)
Biggest Badass Star- Chloe Grace Moretz (Kick Ass)
Best Comedic Performance- Emma Stone (Easy A!)
Best Movie- Twilight Saga: Eclipse
RELATED STORIES: