LIVE STREAM: Prosecutors To Rest Case In Casey Anthony Trial – Watch It Here Live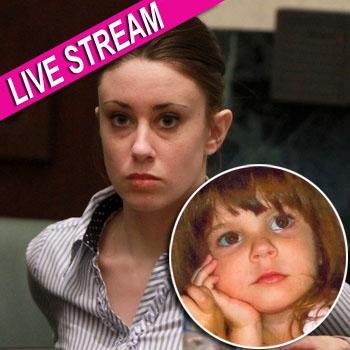 The prosecution expects to rest its case Wednesday in the Casey Anthony murder trial, and once again, Radaronline.com is live streaming the proceedings.
State attorneys say they only have to introduce a few pieces of evidence Wednesday and then it will be done. The defense says it will be ready to call its first witness on Thursday. The big question remains: Will Casey take the stand in her own defense?
Article continues below advertisement
Casey, 25, is charged with first-degree murder in the death of her daughter 2-year-old Caylee, who was reported missing in the summer of 2008; her body was found six months later in a wooded area.
The prosecution maintains that Casey suffocated the girl with duct tape and then dumped her body; the defense claims that Caylee accidentally drowned in the family's pool and that Casey's father, George Anthony, covered it up.
MORE ON:
Judge Belvin Perry