Exclusive
LIVE STREAM: Testimony Resumes In Casey Anthony Trial After She Breaks Down In Court Again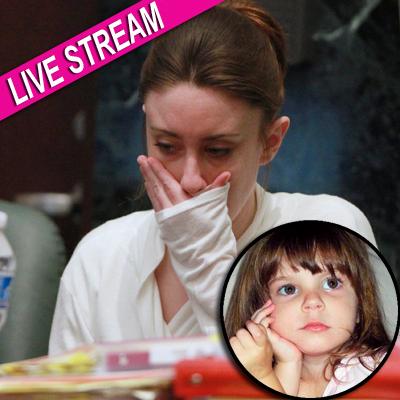 RadarOnline.com Staff Reporter
Another day, another sob session for Casey Anthony.
Anthony on Friday broke down for the second day in a row during her trial in an Orlando, Florida courtroom -- RadarOnline.com is live streaming the proceedings -- as the accused murderer saw more pictures of her dead daughter Caylee.
The pictures showed 2-year-old Caylee's skull, vertebrae, and finger bones; forensic anthropologist John Schultz gave chilling expert testimony on the state of the child's remains.
Article continues below advertisement
Schultz told the jury the late child's "leg bones ... have actually been chewed on by animals."
This tidbit caused Casey to audibly gasp and break into tears, spurring Casey's legal team to ask the judge to call for a 15-minute recess (He did). When court resumed, Casey was still crying.
There had been some speculation that Casey may skip Friday's session, after she had an emotional meltdown in court Thursday when gruesome crime screen photos of her dead child were first shown in court. Casey became pale and visibly shaken and the judge abruptly ended the trial for the day yesterday. It was the first time Casey had seen the photos.
"Miss Anthony is ill," Judge Belvin Perry said as he dismissed the jury for the day Thursday. "Neither the state nor the defense have any comments."
Graphic photos of Caylee Marie, who was just 2-years old when prosecutors say she was murdered by her mother, were shown to the jury and Casey was crying through the testimony.
She continued to cry during the afternoon break before bailiffs escorted her out of the courtroom.
Article continues below advertisement
The testimony centered on Caylee's remains that were found and the photos of the skull, the trash bag that it was found in and the surrounding area.
The jury was shown the photos but the judge ordered that the skull images be blurred out for the media. The photos were not shown on camera during the proceedings.
Casey looked down during all of the testimony, often crying and covering her mouth with her hand as the photos were shown.
"You're looking at a human skull, over the jaw and a lower portion of the facial bones are several pieces of silver or gray colored tape. There is also hair that is extending over the top of the skull," the Chief Deputy Medical Examiner said in court. Casey cried as he spoke and kept her head bowed down.
The photos showed Caylee's skull with no skin tissue and missing teeth.
Casey is being tried for the first degree murder of her daughter, Caylee Marie, whom she had initially reported as kidnapped but now contends drowned accidentally in the pool of the family home.