Legendary Saxophonist Clarence Clemons Suffers Stroke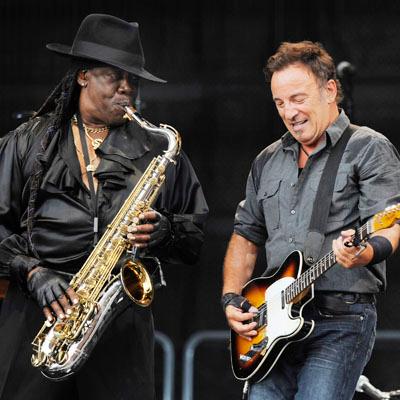 by RadarOnline.com Staff
Legendary saxophonist Clarence Clemons is in the hospital Monday after suffering a serious stroke.
Clemons -- best known as 'The Big Man' in Bruce Springsteen's E Street Band -- suffered the stroke Sunday at his home in Florida, according to showbiz411.com, which first broke the sad news.
Clemons, 69, has had a string of health issues over the past decade, and in 2010, he had both knees replaced and spinal fusion surgery.
Article continues below advertisement
In addition to his work with Springsteen, Clemons also can be heard on Lady Gaga's smash new album, Born This Way. He also performed Edge of Glory with Gaga on the American Idol finale in May.
Clemons last performed with Springsteen and the E Street Band last December at Asbury Park's Carousel House for a special broadcast for the web.
Clemons had been scheduled to perform The Star Spangled Banner at Game 2 of the NBA finals in Miami last week, but he cancelled at the very last minute due to a hand injury and watched the game from the stands.
The musician spoke about his health problems to Rolling Stone back in February and told the magazine that virtually nothing would take him off the road with Springsteen and The E Street Band.
"As long as my mouth, hands and brain still work I'll be out there doing it," he told Rolling Stone. "I'm going to keep going 'til I'm not there anymore. This is what's keeping me alive and feeling young and inspired. My spiritual teacher Sri Chinmoy told me that my purpose in life is to bring joy and light to the world, and I don't know any better way to do then what I'm doing now."