The Last Weiner Roast? Late Night Comics Dig At Disgraced Congressman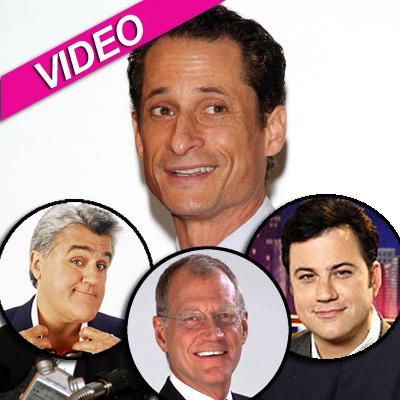 by RadarOnline.com Staff
With Anthony Weiner's resignation from Congress, the comedy goldmine known as "Weinergate" is drawing to a close, and late night hosts Thursday roasted the embarrassed politician like he was going out of style.
Jay Leno joked we'd be getting "no more junk mail" from Weiner after he "announced he's stepping down -- he couldn't stick it out any longer!"
Leno said the good news is, they already found a replacement, the bad news it's Brett Favre.
Article continues below advertisement
Leno said that when officials told Weiner he still has to send in a letter of resignation, Weiner asked, "Can I text the letter?"
David Letterman used a physical prop for his bit: a pack of hot dogs called Weiner's Wieners, before showing a mock clip of Weiner thrusting his hips into a golf hole.
Speaking of video bits, perhaps Jimmy Kimmel had the best of 'em all, showing file footage of Weiner's resignation, only to see the politician walk out from behind the podium with no pants on!