Exclusive
Kim Kardashian Has Spoken: Casey Anthony Verdict Will Be Shocking!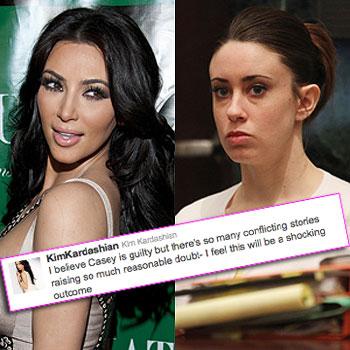 The nation is riveted by the Casey Anthony trial, and now Hollywood's most famous reality star has weighed in with her expert opinion.
Kim Kardashian, daughter of famed OJ Simpson lawyer Robert Kardashian, expressed her feelings about the trial on Tuesday.
"I believe Casey is guilty but there's so many conflicting stories raising so much reasonable doubt – I feel this will be a shocking outcome," she Tweeted about the first-degree murder case.
Article continues below advertisement
Casey, 25, is being tried for the murder of her little daughter Caylee Marie, whose remains were found just blocks from the Anthony home six months after she disappeared.
Bikini Babes Who Play With Pro Athletes - See The Photos
"What crazy testimony today! Casey's mom says one thing & her son says the opposite! Someone is lying here!" Kim wrote.
The most famous of the Kardashian sisters thinks the gripping testimony from the trial is something worth knowing more about. "Who is into this Casey Anthony case?" she asked her 8 million Twitter followers. "So many theories & stories! This is a mess! Who d u believe? Who is lying here?"