Justin Bieber Fans Send Fresh Round of Death Threats As Selena Gomez Visits His Family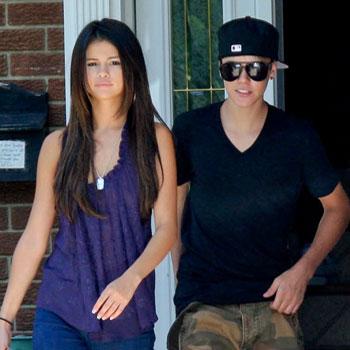 by RadarOnline.com Staff
Obsessed Justin Bieber fans are waging war against Selena Gomez once again in the wake of risque photos of the teen sensation rubbing the Disney star's foot.
Jealous Justin fanatics are outraged over the sexy shots of the couple on vacation in Maui and the death threats on Twitter against 18-year-old Selena are mounting to epic proportions.
As the romance heats up, the Bieberphiles have even more to complain about now that Justin has taken Selena home to Canada to meet his family.
Article continues below advertisement
The love birds were spotted hand-in-hand while walking in a park near Toronto with Justin's dad, Jeremy, and playing with his younger half-siblings, Jazmyn and Jaxon.
Twitterverse was already exploding with threats against the young actress. One crazed Bieberphile wrote, "Stay away from Justin paedophile...I'm gonna kill ya in the night underneath your smell bed."
While another just got straight down to the point: "I will kill selena and dispose her body."
The hatred has spilled over to Facebook, with a whole fan page dedicated to slamming the Wizards of Waverly Place actress over her relationship with the 17-year-old heart throb.
The 'I hate Selena Gomez' fan page already has almsot 3,000 followers, who post insightful comments such as: "Kill, f**k, kick, blow, KILL Selena!"
It's far from the first time that Selena has been the subject abused by Bieber fans.
Article continues below advertisement
When the teen couple went on vacation the Caribbean in January, Twitter exploded with messages threatening to kill Gomez for stealing their guy.
From the poetic, such as, "Roses are red, violets are blue, @selenagomez if you'll break @justinbieber's heart I'm gonna kill you," to the hearthbroken, "w***e cancer w***e..like i'mm kill myself cuz i saw you and Justin kissing well thankyou Selena thankyou now i'm killing myself," fans were vocal about their feelings.