Justin Bieber Causes Mob Scene In New York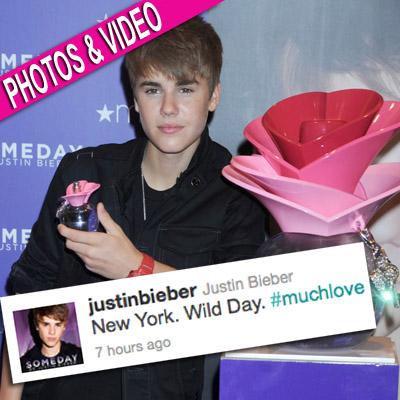 By Adam S. Levy - RadarOnline.com Staff Writer
Justin Bieber said it best on his Twitter page: "New York. Wild Day."
The 17-year-old heartthrob inadvertently caused a melee in Manhattan during an appearance at Macy's on Thursday, when he was promoting his new fragrance, Someday.
When the international superstar wanted to go outside and greet his adoring public, police said they set up a small area in which he could do so. Bieber wound up walking out of the area, however, and headed towards a barricade that was holding back an estimated 500 fans. As he drew nearer, the barricade came crashing down and a ruckus ensued.
Article continues below advertisement
Although there were initial reports that Bieber was attacked by a strange man and knocked to the ground, they turned out to be not true.
Here's what actually happened -- in the chaos, a 47-year-old member of Bieber's security team was blocking a doorway to the store, police said, and physically moved by authorities, who didn't realize he was with the Biebs. The man was subsequently cited for disorderly conduct and released.
"This was a momentary, well-intentioned misunderstanding that was quickly resolved," Bieber's rep Melissa Victor told the AP. "The event went very well."
Thankfully, the Canadian singer was rushed back into the store before things got out of hand, and emerged from the craziness without a scratch. Afterwards, he continued hawking his sweet-smelling goodies to the legions of fans who showed up for the appearance.
Article continues below advertisement
He later tweeted Thursday: "today went well at macy's.. the fans were AMAZING, thanks to all the fans who came out to support it was a breath of fresh air :) ... #ilovemyfans and for those i didnt get to see today....thank u for your love and support. #wegohard #teambieber #someday."
PHOTOS & VIDEO: Selena Gomez Stunning In Santa Monica
Bieber's Baby video is the most viewed-ever on YouTube, racking up more than 570 million hits.