Exclusive
Bieber Fever And Obamamania To Hit New York City -- Chaos To Ensue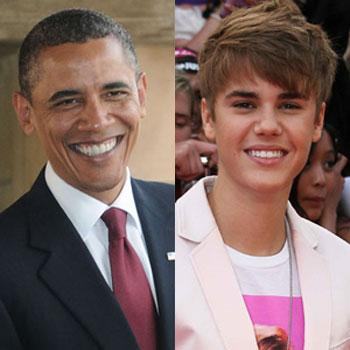 What do you get when Obamamania meets Bieber Fever? One massive mess of gridlock if it occurs in New York City!
It's rare that Barack Obama and Justin Bieber have anything in common but when the pair arrive in New York on Thursday fans on both side will be out in full force.
The ensuing gridlock is expected to cause absolute chaos in the Big Apple especially in Midtown and the West Side of Manhattan as the two uber famous figures arrive with their massive security entourages.
Article continues below advertisement
President Obama is in town to raise funds for his re-election campaign, while Bieber is in the city for an equally important mission - to launch his new fragrance, Someday, at Macy's Herald Square.
According to New York Daily News columnist Gridlock Sam, the President will touch down at Kennedy Airport at 5 pm and then wine and dine with Wall Street donors at the Upper East Side restaurant Daniels.
After another meeting at a Broadway Theater with donors who are attending the musical Sister Act, Obama is expected to depart at around 10.30 pm.
Bieber's fans are already excited about his impending arrival, more than 100 people were camped out overnight Tuesday in eager anticipation of Thursday's appearance of the Canadian singer.
The first 325 customers who purchase the $135 limited edition, four piece set of Bieber's new fragrance will have the opportunity to meet the Baby singer and take a photo with him.