John Travolta & Kelly Preston Bring Baby Ben To Paris For Father's Day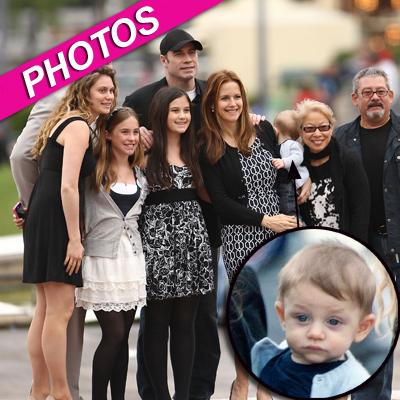 Doting dad John Travolta and wife Kelly Preston celebrated Father's Day in Paris, bringing with them their two children, Ella and baby Benjamin.
The Hollywood family spent part of their day at the Eiffel Tower. The Grease star was dressed down in jeans, a black baseball hat and a blazer, while Preston -- who will appear with her husband in a new Gotti bio-pic -- shined in a printed frock. Both posed for pictures with fans.
Article continues below advertisement
Benjamin was born November 23, 2010, weighing a healthy 8 pounds, 3 ounces, and is the third child for Travolta, 57 and Preston, 48. The family looks to be recovering, as well as we can be expected, since the tragic death of their beloved son Jett, who died at 16 in January 2009 from a seizure at the family's vacation home on Grand Bahama island.
Fun fact: at 1,063 feet tall, the Eiffel Tower stands at about the same height as an 81-story building.