Exclusive
PHOTO: Entourage Star Jerry Ferrara's Dramatic Slim Down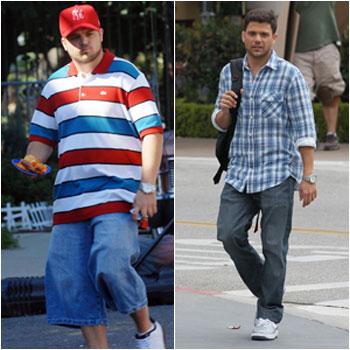 Jerry Ferrara is half the man he used to be -- literally!
The 31-year-old actor, who plays Turtle on Entourage, flaunted his flab-free frame Monday as he filmed scenes for the eight, and final, season of his hit HBO show.
Entourage Red Carpet Season 7 Premiere
Ferrara claims to have shed the pounds the old fashioned way, through diet and exercise, taking long hikes in LA's Runyan Canyon and swapping out the junk food for organic fruit and veggies.
Article continues below advertisement
Although there's less to see of Ferrara on the small screen we could soon be seeing more of Turtle on the big screen as reports build of a possible Entourage movie.
Contstance Zimmer, who plays studio executive Dana Gordon told US Weekly that an Entourage movie is in the works.
"I haven't seen any 'signed' paperwork, but there's a lot of talk," Zimmer said. "I think that it's more than a possibility. I actually think that it's going to happen."